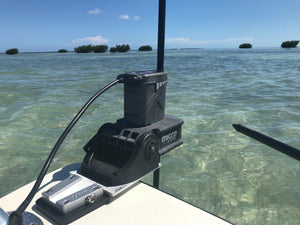 A great way to mount your PowerPole Micro Anchor to your boat. 
---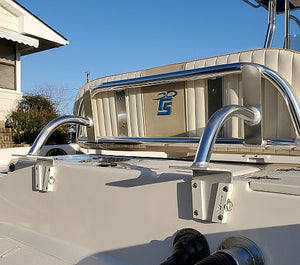 Here is the V-lock used to support a seat back.  From the Captain: " The boat is a 23 carolina skiff 23 ultra elite.  The rear seat on this boat is horrible stock, it is a torture chair for my passengers, so I custom made this seat back rest and used your v-locks to be able to remove the seat once we get to our fishing spot off shore about 30-40 miles.  I remove it at our destination and put it in the console to fish and open the livewell and storage box.  It is in the way of fishing...
---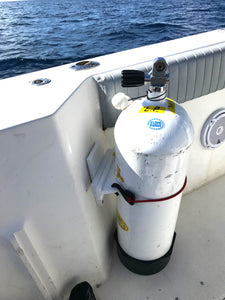 V-Lock Dive Tank Holder
---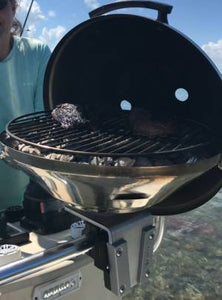 Bolted through onto a standard 4" V-Lock bent insert. Centered over the rail to balance and reduce any tendency to roll.
---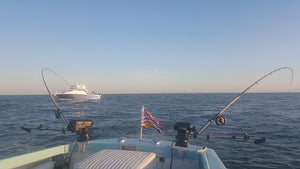 These were sent in by a customer from Vancouver, BC   Put the grill on the V-Lock back at the marina And the seat backs are also on the V-Lock.... Close up    
---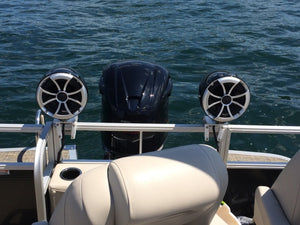 Using the V-Lock and Square Rail Mount Kit to put speakers on the railing of a pontoon boat.
---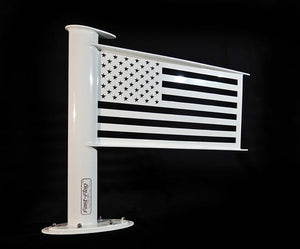 Fast Flag is a new product making its debut at the Miami boat show this year. It is a sleek design durable rigid aluminum American flag to put on your boat (or truck, or house or dock) They were looking for a way to make their flags quickly removable and the V-Lock is strong enough for the job. Maybe to move it from the boat to the truck, or take it off the truck because its in the way. Great application for the V-Lock! See them at the Miami Boat show !
---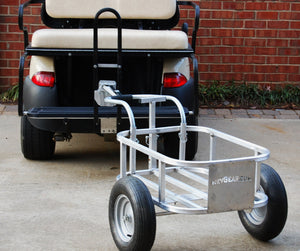 NevGear
 is a V-Lock partner that uses the 
V-Lock
 as a tailgate/trailer hitch on golf carts to attach their line of Neighborhood Electric Vehicle accessories.
---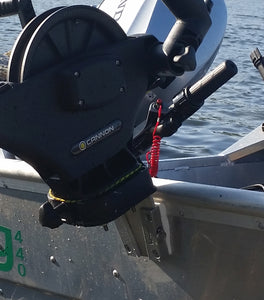 This aluminum skiff had no gunnel or rod holders so how can you mount a down rigger?
---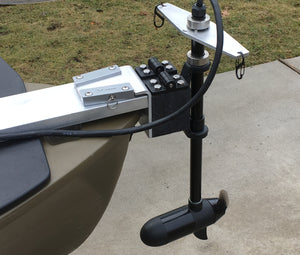 A very cool engineered trolling motor mounted on a Kayak using the V-Lock.
Thanks to Bob and Long Island Kayak Bass Fishing
---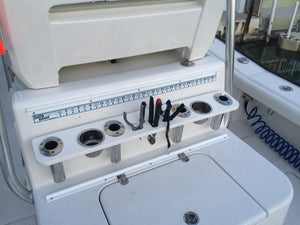 Customer wanted the versatility to have more fishing gear rather than a seat in his Calcutta, the V-Lock was the solution
---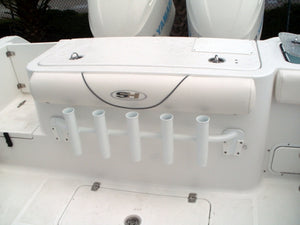 ProMarine is a premier dealer of Sea Hunt boats in Florida.
And they have found a way to set them apart using the V-Lock!
---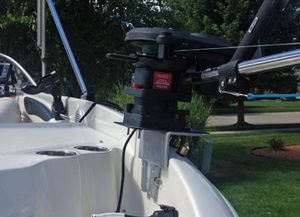 Electric Down Riggers on a Ski and Fish Tahoe Q7 There is a steel backing plate installed behind the fiberglass wall for additional structure and stability. one on each side These were custom bent large inserts for clearance. Because the custom bent insert reduced the size of the mounting surface, also installed a steel plate on top of the v-lock insert for a larger surface area and centered weight distribution for the down riggers. The leveling feet under the plate are to provide addition support and are adjustable.
---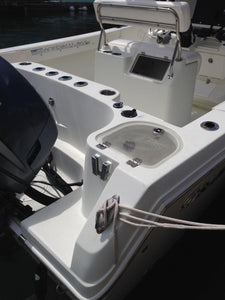 Cutting Board on a Sailfish 2360 "This is a 2006 Sailfish 2360, twin Yam 115 4 stroke." "The small V-Lock wedge gives it just the right angle." "The install was easy, I used 3" long 1/4x20 stainless hardware and fender washers/nylocks and went through the live well." "My wife wants to put a small grill on it... I'm definitely looking at a scuba tank holder for a hookah rig for lobstering."
---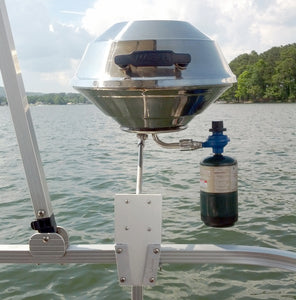 A lot of people use the V-Lock to mount the grill on the boat. Pontoon boats typically have square railings of 1 1/4".Here is a great example of how the V-Lock square rail kit works. Done using the grill? Simply pull the pin and remove it.Put something else in its place, never enough cup holders in the boat! Good idea to install the V-Lock around a stantion, or post for extra support and stability.  
---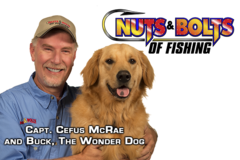 Captain Cefus McRae, Host of The Nuts & Bolts of Fishing has a review of the V-Lock and a short product spotlight video shot at the Miami Boat Show...
---

V-Lock, One Great Idea! When V Lock became a sponsor of Ultimate Bass they sent us one to try out. At first look I thought this was ingenious and like always I say, "Why didn't I think of that?". Then I got to thinking about applications for my boat? The first thing that came to mind is that I would love to have one of those giant screen sonar units, however everyone I talk to says you really need one up front at the trolling motor and one at the consol. They all say if you're going to jump, jump...
---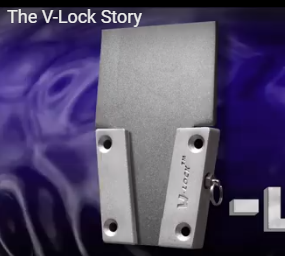 Video of the V-Lock at the debut boat show....